Last week we overviewed the advantages TransMagic can give aerospace manufacturers who need to comply with the AS9100 standard. This week we dig into Boeing spec D6-51991. Part 2 of this article covers Boeing D6 Spec Translations.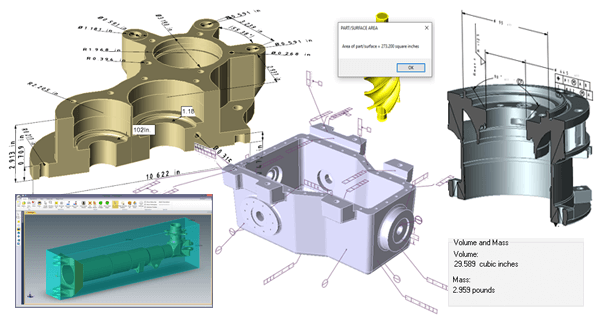 Solution: "Information" above could mean measurements, dimensions, GD&T data, notes, bills of material, mass properties, surface area, bounding box, PMI views, customized views, captured views with select dimensions shown, and much more. As illustrated in figure 1, TransMagic gives you all of that capability; clockwise from upper left, placed dimensions and micrometer thicknesses, surface area, a PMI section, mass properties (centroid and other information also available), a NIST PMI example and a 'bounding box' calculation.
PMI and other dimensions
D6-51991 7.5.1 Supplier's QA must verify that all design implicit and explicit requirements (e.g., all features defined by GD&T, annotations, specifications, notes and other specified requirements in the authority MBD dataset and associated parts list including dimensional and other properties) are identified and planned for inspection/validation.
Solution: In short, all design requirements in a given design must be identified for inspection and validation. Again, identifying PMI data (notes, GD&T and dimensions), interrogating the solid, measuring and even extracting data in XML format is possible with TransMagic products. In figure 2 you can see part data extracted to XML, and in the inset, PMI data; mass properties data is also available. Part, mass properties and PMI XML extraction gives you a powerful window into your customer models and assemblies which can be used not only build reports and processes for the D6 spec, but to spot trends and further optimize manufacturing processes.
The PMI View Browser: Figure 3 captures some of the functionality of the PMI View Browser, which allows the user to access PMI per view, neatly untangling the rat's nest of GD&T which typically covers a complex part. In figure 3 you can see there are six possible views which correspond to the orientation of the PMI, each with their own GD&T; in the inset, note that if one of those values is selected, it highlights yellow and zooms in the browser. PMI View Browser data can be saved out to PDF (see next figure).
Extracted PMI Views: The PMI View Browser will also allow users to save out the entire model and PMI data as a 3D PDF, with any selected views; in figure 4, note that three views have been captured in this 3D PDF document. Click on any view to activate it, or use the mouse to rotate or zoom the 3D model into any orientation or position.
Part 2 of this post is now complete, where we look at the 'translations' component of D6-51991, specifically section 8.2. Also please note informational link below.
Find a copy of Boeing Spec D6-51991 here.
If you have any questions or comments, email us at [email protected].